Hearing Aids from Audibel
The philosophy of Audibel is reflected in their catchy motto, "Helping People Hear. It's the Reason We're Here." This simple approach to design and development has led Audibel hearing aids toward their goal of becoming a global leader in the production of quality hearing instruments.
Powered by Starkey, Audibel hearing aids were developed at Hearing Healthcare Centre in Cambridge, Newmarket, and Saffron Walden, UK by a group of independent hearing aid dispensers and audiologists whose desire was to establish exemplary hearing care with personalized solutions able to compete with bulk-buy, off-the-shelf products.
Partnering with Starkey Laboratories allowed Audibel to produce high-end technology equipped with state-of-the-art features, fine-tuning options, and the outstanding performance necessary to address the unique sound needs of hearing aid wearers.
Request A Callback
"*" indicates required fields
Hearing Solutions Available to You from Audibel
With Receiver in the Ear (RITE), Behind the Ear (BTE) and custom In the Ear (ITE) hearing aid options available, the brilliant wireless solutions, wireless microphones and media streamers featured in their designs have earned the company the SXSW interactive innovation award.
One of the first companies to launch made for iPhone hearing aids, Audibel is also the innovator of "speech confirmation" able to enhance programming support and improve their capacity to respond to customer feedback.
Along with Thrive Care, provided by Starkey, Audibel's connectivity allows for ongoing counseling and support from your hearing care provider from any remote location.
Patient-Focused Hearing Aid Repair at Flex Audiology
Audibel hearing aids provide an advanced hearing solution for those who need some extra help to hear better, which is why individuals who use Audibel hearing aids can find the support they need from Flex Audiology, like troubleshooting, maintenance, and repair of their hearing instrument as well as those from various manufacturers, like Audina, Beltone, Kirkland, and more.
One of the many advantages of trusting your hearing care to our professional audiologists is the personalized care, support, and encouragement our doctors and hearing aid technicians provide; services you're not apt to have available if you purchase your device from a hearing aid dispenser, online, or over the counter in a big box store.
If you, or a loved one, has a hearing challenge or you need some help from one of our hearing aid technicians, contact the most trusted hearing care leader in Lawrenceburg, IN using the adjacent form.
With so many myths and misconceptions around treatment of hearing
loss, it can be very confusing to make the right decision.
That's why Dr. Person is available to help.
Simply complete this form and you will receive a callback between her
appointments for a friendly and no-obligation conversation to answer any
questions that you may have and she will offer her advice.
Remember, there's no such thing as a silly question when it comes to your
healthcare!Don't want to wait? Call us at: (812) 532-3011
"*" indicates required fields
They are very helpful.
I became aware of my hearing loss when I was a small child and wasn't sure what was going on. Everyone at Flex Audiology was very concerned and helpful with my hearing loss.
– Marshane Greathouse
I can hear a lot better.
Between music and machinery, I have also had trouble [hearing]. My biggest concern prior to my appointment at Flex Audiology was cost and service. Flex has the best of each – cost and service.
– Jim Stohr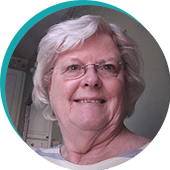 I was so amazed and my husband...
I first realized I had a hearing loss when my husband complained about the TV being too loud or having my friends repeating what they had said.
– Vicki Shroyer