The primary objective of Audina's experienced group of highly skilled engineers, tech-support, and sales associates is improving the lives of hearing loss patients with innovative hearing instruments. Their combined expertise in product excellence, superior service, unconditional integrity, and customer value drive the day-to-day operations of Audina.
Rather than investing in research, Audina uses companies like Gennum and RTI for innovation, while Audina focuses on customer service and customer support for their wide range of hearing instruments from entry-level BTEs to advanced level digital CIC devices.
Request A Callback
"*" indicates required fields
Hearing Solutions Available to You from Audina
Among the most advanced-level technologies included in Audina hearing aids is their P2i water resistance material which uses pulsed ionized gas (plasma) to apply a nanoscopic (1,000 times thinner than a human hair) polymer to the surface of the instrument, making it waterproof.
Audina hearing aids feature their innovative lithium-ion rechargeable battery, capable of charging their device for full-day use, even during streaming. True Environment Processing, capable of dealing with background noise, is included in their RIC, RIC with telecoil, and BTE style hearing aids.
Connectivity with iPhone is supported directly, but Samsung and others require Soundclip-A or the Remotelink App to connect hearing aids to digital devices. This capability allows users to send and receive programming and troubleshooting assistance as well as ongoing counseling and support from their hearing aid provider without requiring an in-office consultation.
Patient-Focused Hearing Aid Repair at Flex Audiology
Audina hearing aids provide an advanced hearing solution for those who need some extra help to hear better, which is why individuals who use Audina hearing aids can find the support they need from Flex Audiology, like troubleshooting, maintenance, and repair of their hearing instrument as well as those from various manufacturers, like Beltone, Kirkland, NuEar, and more.
One of the many advantages of trusting your hearing care to our professional audiologists is the personalized care, support, and encouragement our doctors and hearing aid technicians provide; services you're not apt to have available if you purchase your device from a hearing aid dispenser, online, or over the counter in a big box store.
If you, or a loved one, has a hearing challenge or you need some help from one of our hearing aid technicians, contact the most trusted hearing care leader in Lawrenceburg, IN using the adjacent form.
With so many myths and misconceptions around treatment of hearing
loss, it can be very confusing to make the right decision.
That's why Dr. Person is available to help.
Simply complete this form and you will receive a callback between her
appointments for a friendly and no-obligation conversation to answer any
questions that you may have and she will offer her advice.
Remember, there's no such thing as a silly question when it comes to your
healthcare!Don't want to wait? Call us at: (812) 532-3011
"*" indicates required fields
They are very helpful.
I became aware of my hearing loss when I was a small child and wasn't sure what was going on. Everyone at Flex Audiology was very concerned and helpful with my hearing loss.
– Marshane Greathouse
I can hear a lot better.
Between music and machinery, I have also had trouble [hearing]. My biggest concern prior to my appointment at Flex Audiology was cost and service. Flex has the best of each – cost and service.
– Jim Stohr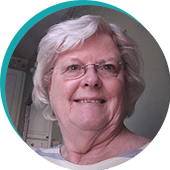 I was so amazed and my husband...
I first realized I had a hearing loss when my husband complained about the TV being too loud or having my friends repeating what they had said.
– Vicki Shroyer