Kirkland Hearing Aids from Costco
Kirkland branded hearing aids, available from Costco, are made by major manufacturers who go through a bidding process for the rights to build the Kirkland Signature package. The company who wins the bid produces a package that is a specially priced bundle that includes product and service.
Manufacturers of Kirkland hearing aids have included Signia, Rexton, and ReSound, which means the expertise and support of these major manufacturers are included in your Costco Kirkland hearing aids.
Request A Callback
"*" indicates required fields
Hearing Solutions Available to You from Kirkland
Current Kirkland hearing solutions include high-performance smart technology that automatically and seamlessly adjust the setting of your hearing aid to your environment as well as optimized speech clarity.
Kirkland devices come in a dust and water resistant (IP68) housing capable of surviving continuous immersion in 1 meter of water for an hour and up to 8 hours in a dust chamber. Their instruments feature Tcoil which provides universal connectivity using Bluetooth to integrate your hearing aids with your smartphone and other digital devices.
The Easy Line Remote app allows users to connect to your hearing care provider in order to share programming feedback as well as receive counseling and programming upgrades without the need for an in-office appointment.
Patient-Focused Hearing Aid Repair at Flex Audiology
Though we are not distributors of Kirkland hearing devices, they provide an advanced hearing solution for those who need some extra help to hear better, which is why individuals who use Kirkland hearing aids can find the support they need from Flex Audiology, like troubleshooting, maintenance, and repair of their hearing instrument as well as those from various manufacturers, like NuEar, Audible, Audina, and more.
One of the many advantages of trusting your hearing care to our professional audiologists is the personalized care, support, and encouragement our doctors and hearing aid technicians provide; services you're not apt to have available if you purchase your device from a hearing aid dispenser, online, or over the counter in a big box store.
If you, or a loved one, has a hearing challenge or you need some help from one of our hearing aid technicians, contact the most trusted hearing care leader in Lawrenceburg, IN using the adjacent form.
With so many myths and misconceptions around treatment of hearing
loss, it can be very confusing to make the right decision.
That's why Dr. Person is available to help.
Simply complete this form and you will receive a callback between her
appointments for a friendly and no-obligation conversation to answer any
questions that you may have and she will offer her advice.
Remember, there's no such thing as a silly question when it comes to your
healthcare!Don't want to wait? Call us at: (812) 532-3011
"*" indicates required fields
They are very helpful.
I became aware of my hearing loss when I was a small child and wasn't sure what was going on. Everyone at Flex Audiology was very concerned and helpful with my hearing loss.
– Marshane Greathouse
I can hear a lot better.
Between music and machinery, I have also had trouble [hearing]. My biggest concern prior to my appointment at Flex Audiology was cost and service. Flex has the best of each – cost and service.
– Jim Stohr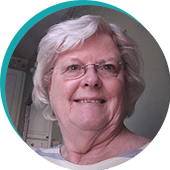 I was so amazed and my husband...
I first realized I had a hearing loss when my husband complained about the TV being too loud or having my friends repeating what they had said.
– Vicki Shroyer