NuEar strives to provide each of their hearing aid wearers with the hearing independence that guides everything they do, setting us apart from hearing device providers. Founded in 1976, NuEar's nationwide network of hundreds of independent-minded hearing professionals not only offer better hearing, but the peace of mind comes with knowing that no matter where you are or where you go, NuEar will be there with you.
Request A Callback
"*" indicates required fields
Hearing Solutions Available to You from NuEar
In partnership with Starkey, NuEar devices offer AI advanced hearing solutions with a class of technology capable of making up to 55 million automatic adjustments every hour to deliver realistic and genuine sound quality in every listening environment.
NuEar devices come with a best-in-class feedback cancellation system, great sound quality, clarity, and consistency using CROS technology, which allows streaming between your hearing aids so you can hear sounds in your weaker-hearing ear by way of your healthy ear. For those who experience issues with tinnitus, NuEar provides support using Multiflex Tinnitus Technology, adjustable via the Thrive app.
Additional features of NuEar hearing aids include recharging for up to 24 hours of hearing aid use, Surface NanoShield, a water, wax and moisture repellent system able to protect your device to ensure durability and dependability, Geotagging that allows the builtin GPS to automatically adjust your hearing aids to the sound profile for a specific tagged location, and connectivity with iPhone, Android, and other digital devices.
Along with the Thrive app, you are also able to send and receive feedback necessary for programming, support, and counseling from your hearing care provider from any remote location.
Patient-Focused Hearing Aid Repair at Flex Audiology
NuEar hearing aids provide an advanced hearing solution for those who need some extra help to hear better, which is why individuals who use NuEar hearing aids can find the support they need from Flex Audiology, like troubleshooting, maintenance, and repair of their hearing instrument as well as those from various manufacturers, like Audibel, Audina, Beltone, and more.
One of the many advantages of trusting your hearing care to our professional audiologists is the personalized care, support, and encouragement our doctors and hearing aid technicians provide; services you're not apt to have available if you purchase your device from a hearing aid dispenser, online, or over the counter in a big box store.
If you, or a loved one, has a hearing challenge or you need some help from one of our hearing aid technicians, contact the most trusted hearing care leader in Lawrenceburg, IN using the adjacent form.
With so many myths and misconceptions around treatment of hearing
loss, it can be very confusing to make the right decision.
That's why Dr. Person is available to help.
Simply complete this form and you will receive a callback between her
appointments for a friendly and no-obligation conversation to answer any
questions that you may have and she will offer her advice.
Remember, there's no such thing as a silly question when it comes to your
healthcare!Don't want to wait? Call us at: (812) 532-3011
"*" indicates required fields
They are very helpful.
I became aware of my hearing loss when I was a small child and wasn't sure what was going on. Everyone at Flex Audiology was very concerned and helpful with my hearing loss.
– Marshane Greathouse
I can hear a lot better.
Between music and machinery, I have also had trouble [hearing]. My biggest concern prior to my appointment at Flex Audiology was cost and service. Flex has the best of each – cost and service.
– Jim Stohr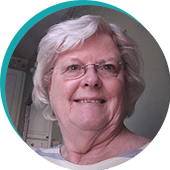 I was so amazed and my husband...
I first realized I had a hearing loss when my husband complained about the TV being too loud or having my friends repeating what they had said.
– Vicki Shroyer