The electric Acousticon hearing device, released by Oticon in 1904, was the first hearing aid. Oticon along with Charles Lehman started the American-Danish Oticon Corporation, who became the leading provider of hearing aids after World War II and a global distributor of hearing aids by 1965.
The company's first ultra-discreet in-the-ear (ITE) hearing device was released in 1977, and Oticon's first digital device became available in 1996. Innovations to improve sound sensitivity and provide connectivity and streaming were among the features of the technology released in 2007.
Most of Oticon's 21st century innovations center around Brain Hearing, an approach to designing and building technology able to support how the brain processes sound and speech to create meaning rather than just amplifying sound.
Request A Callback
"*" indicates required fields
Hearing Technology Solutions Available to You from Oticon
The Opn technology platform used in today's Oticon hearing aids uses the Brain Hearing concept to allow device wearers to distinguish between multiple speakers within a noisy environment while providing the basis for internet connectivity using ConnectClip and the IFTTT (If This Then That) Network.
With developments in micro-digital and nano-digital technology, Oticon is able to manufacture hearing aids that continue to be smaller, lighter, and more discrete to wear while improving sound quality, voice clarity, and instrument performance.
Oticon was able to integrate Tinnitus SoundSupport using streaming technology in order to transmit white noise and other tinnitus masking sounds for auditory relief. Using the Genie fitting and counseling tool, it is easier for your hearing care provider to fit your device and provide the necessary ongoing counseling and support without the need to schedule an in-office appointment.
Patient-Focused Hearing Care from Flex Audiology
Many advanced technology solutions, like Oticon hearing aids, are among the tools available for Flex Audiology to address your unique hearing care needs, but they cannot replace you as the primary focus of the personalized hearing care we provide to our patients.
We start with an accurate diagnosis of your hearing challenges with a comprehensive hearing assessment and the expert guidance of our hearing aid technicians to help you during the process of selecting the hearing instrument that best addresses your specific type and severity of hearing loss, along with meeting your personal and budget preferences.
Residents of Lawrenceburg, IN and nearby communities can enjoy better hearing as well as a more active and independent lifestyle thanks to the services our hearing instrument specialists provide, such as ongoing technical support, device maintenance, and hearing aid repair for devices from manufacturers like Oticon, Phonak, ReSound, and more.
If you, or a loved one, is struggling with your hearing or you need some help from one of our hearing instrument specialists, contact our Flex Audiology clinic using the adjacent form.
With so many myths and misconceptions around treatment of hearing
loss, it can be very confusing to make the right decision.
That's why Dr. Person is available to help.
Simply complete this form and you will receive a callback between her
appointments for a friendly and no-obligation conversation to answer any
questions that you may have and she will offer her advice.
Remember, there's no such thing as a silly question when it comes to your
healthcare!Don't want to wait? Call us at: (812) 532-3011
"*" indicates required fields
They are very helpful.
I became aware of my hearing loss when I was a small child and wasn't sure what was going on. Everyone at Flex Audiology was very concerned and helpful with my hearing loss.
– Marshane Greathouse
I can hear a lot better.
Between music and machinery, I have also had trouble [hearing]. My biggest concern prior to my appointment at Flex Audiology was cost and service. Flex has the best of each – cost and service.
– Jim Stohr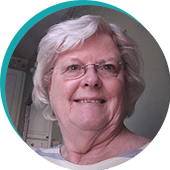 I was so amazed and my husband...
I first realized I had a hearing loss when my husband complained about the TV being too loud or having my friends repeating what they had said.
– Vicki Shroyer