When it comes to addressing a hearing challenge, there are several options available in the Lawrenceburg area.
One of the most well-known options, due to their large amount of advertising and heavy use of direct mail, is Miracle Ear.
As part of a group that spans the US, Miracle Ear is a juggernaut in the hearing care industry with more than 1,500 stores.
The question is, what is the difference between investing in better hearing with Miracle Ear versus visiting a local independent hearing care clinic like Flex Audiology?
Well, in this article, I'm going to share some of the benefits and disadvantages of both options to allow you to understand the differences and make the best decision for your circumstances and needs.
But first, an important distinction.
So, How Are They Different?
What makes this comparison difficult is that fundamentally, Flex Audiology does not "sell" hearing devices and would not consider ourselves to be a "store" – instead, we are hearing healthcare providers.
This means that there are some big differences.
These include:
Our hearing evaluations are not solely looking for whether or not you have a hearing loss and if you're a candidate for hearing aids. Instead, we evaluate all aspects of your hearing health through advanced testing to ensure that all preventative steps can be taken to protect your long-term hearing. This includes ruling out medical issues that could be impacting your hearing as well as monitoring current health issues that may cause hearing loss in the future.
We're relationship focused, not transactional. From helping thousands of people to achieve better hearing, we know that it's not as simple as buying some hearing aids. It requires a long-term partnership and all of our relationships with patients are for life, not just the sale.
Independent versus national brand. Although this may not be the most important aspect, it's definitely worth noting. We're a small independent clinic dedicated to the people of Lawrenceburg; we're not a large national group.
To help you to understand the key differences, we have developed a comparison chart to share the benefits of choosing both Miracle Ear and Flex Audiology.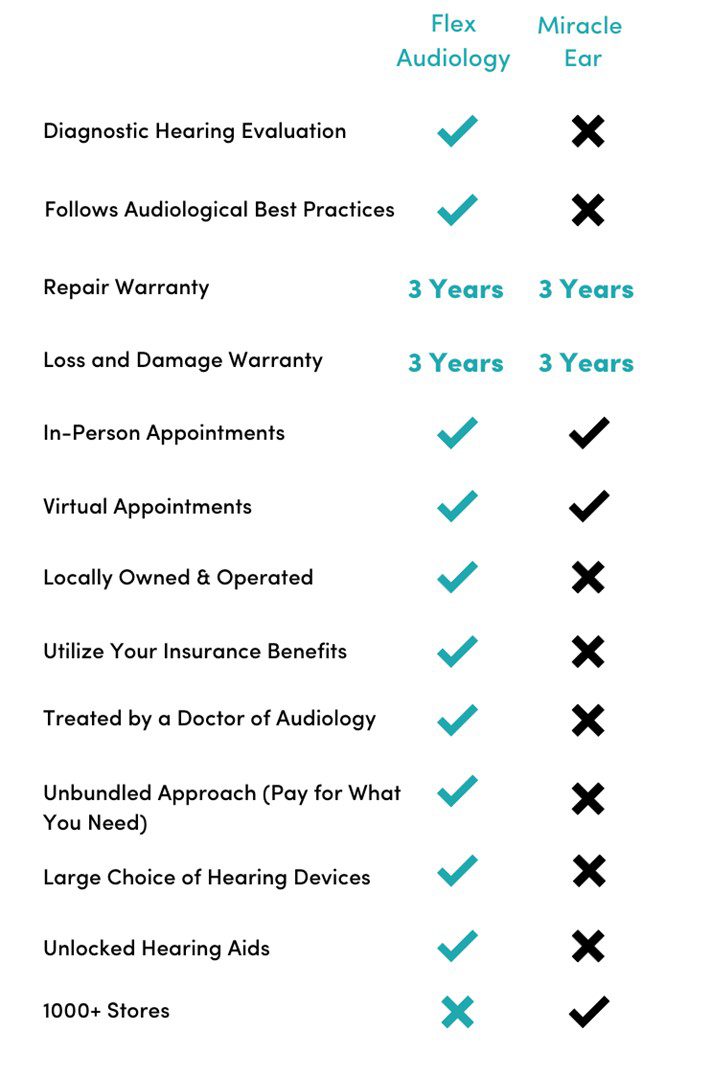 Hearing Assessments
To start at the top of the list, Flex Audiology offers comprehensive hearing assessments whereas Miracle Ear offers the common form of hearing tests that determine if you could be helped by a hearing aid.
A comprehensive hearing assessment and communication need analysis go through multiple steps to check all areas of your hearing health, ensuring that a hearing challenge isn't a result of a more serious medical condition.  Exact hearing thresholds and word understanding are obtained, ruling out cerumen impaction and middle ear fluid as temporary causes for hearing loss.
Doctors of audiology are trained to understand when a medical referral is necessary, and our network of colleagues in the Lawrenceburg communities is vast, ensuring that the patient is in the best care and their overall health is our priority.
Hearing Aid Warranty
With similarities in Repair Warranty and Loss & Damage Warranty, this is the peace of mind of knowing how long you are covered for if your hearing devices stop working, need replacing, or are damaged, with both offering three-year repair warranties and a three-year Loss & Damage warranty.
One distinct difference is that although both Flex Audiology and Miracle Ear have access to the same hearing technology (with Miracle Ear being limited to a one manufacturer relationship), all of their devices are locked. This means that you can only receive ongoing help and adjustments from a Miracle Ear store, which is frowned upon within the industry and could result in complications.
However, Miracle Ear does have an agreement with franchise owners, which means that you can have your devices serviced at any of their 1500 stores across the country at no additional charge.
In summary, whether you decide to work with Flex Audiology or Miracle Ear, making the decision to address your hearing challenges is such an important first step.
Both options are right for some people and not others. We understand it is your decision and value that it is different for different people.
If you have any questions or need any clarification, then you can request a callback on this page, or you can call us at (812) 532-3011.