Partnering with Lawrenceburg and Harrison's Best Physicians to Protect The Hearing Health of Local People
A Personal Message to Local Physicians From Dr. Erica Person
With the statistics around hearing loss worsening, and the World Health Organization predicting that hearing loss will double by 2050, it's never been more important to encourage local people to prioritize their hearing health.
As a local medical professional, you influence many local people to make better decisions around their health. We kindly ask that if you have a patient that is experiencing hearing challenges, or in need of our services (as listed below), then please know that we are here to help.
Thank you for all you do.
Would You Like to Refer a Patient? Simply Complete This Form
If you have a patient that requires further help, then you can refer them by using this simple form. We'll be able to help them to explore their insurance benefits and comprehensively test their hearing before sharing our recommendations with them.
"*" indicates required fields
Different Ways We Can Help
DIAGNOSTIC HEARING EVALUTATIONS
When Was Your Last Hearing Assessment?
Although we all regularly have our teeth checked, our eyes tested, and a yearly physical, hardly any of us regularly have our hearing checked.
Yet with hearing loss now impacting 1 in 8 of us, it's the second most common physical health condition in the US.
A hearing evaluation is quick, non-invasive, and you're able to learn the results right away. Yet by catching any potential hearing loss early, you're able to take smart preventive measures to maximize your long-term hearing health.
PRESCRIPTION HEARING AID TECHONOLOGY
Hearing Technology Uniquely Tailored For You
With over-the-counter hearing devices finally being approved, there has been a lot of confusion about the differences between the different types of hearing technology over recent times.
To help demystify the confusion, we're able to help you to choose the right level of technology based on your unique circumstances and hearing loss.
With access to all different manufacturers and levels of technology, you're able to benefit from an experienced team that can provide a custom solution for you.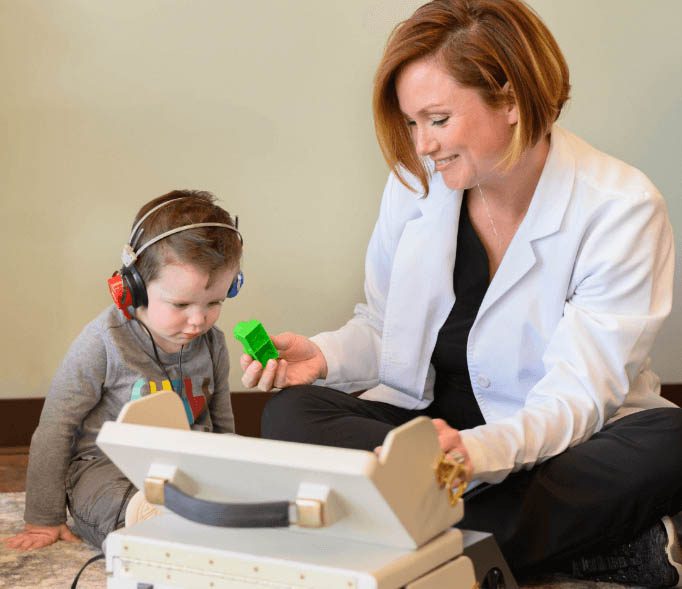 Pediatric Audiology In Lawrenceburg and Harrison
Being told your child needs a hearing test or that they've failed a hearing screening can be a scary event. Not too long ago, Dr. Person went through this very same thing with her then 18-month-old son.
At that time, there were no audiologists in Dearborn County that had pediatric hearing testing. Once she realized that she would have to drive an hour to get services, she decided to add pediatric audiology to her practice.
Flex Audiology now offers basic hearing testing for newborns through to those 18 years of age. If you are concerned about your child's hearing, then we're here to help.
Meet Your Local Hearing Experts