Seven Reasons To Choose Flex Audiology
#1 – Only Pay For What You Need
With many traditional hearing care clinics, you're often presented with "bundled" plans – these are where you pay one price and everything is included.
The problem is that often you don't need all the things that are included and end up paying for services, appointments, and the specialist's time that you simply do not need.
With Flex Audiology, you're able to only pay for what you need by creating a customized treatment plan that is built specifically around your needs and circumstances.
It's the smart way that people in Lawrenceburg and Harrison can benefit from working with an experienced doctor of audiology and receive the highest level of hearing care, while only paying for what they need.
#2 – Fully Customized Treatment Plans
Your hearing is unique, so your treatment plan should be unique also.
Through following a methodical process of best practices, you're able to benefit from a customized treatment plan that protects your hearing health and your pockets, with the confidence that you're receiving the best of the best.
#3 – Lawrenceburg and Harrison Focused
We're not a pop-up clinic and our staff do not travel from out of the area – we all live in Lawrenceburg and Harrison, bring our families up here, and are passionate about the community.
We love nothing more than working with local people, and if you like working with local businesses, then we may be the ideal match.
#4 – Advanced Audiological Experience And Expertise
Dr. Erica Person is a highly respected doctor of audiology that has helped thousands of people to achieve better hearing for over 16 years. With a specialism in vestibular diagnostics, she is trusted by local physicians and healthcare providers for her vast experience in all aspects of hearing health.
By choosing to work with Flex Audiology, you're able to benefit from working with a real expert of their craft and benefit from their vast expertise.
#5 – Always Go The Extra Mile
Going the extra mile has always been a key philosophy of Flex Audiology.
Just look at what some of our patients have had to say about how we go one step beyond their expectations – click here.
#6 – Comfortable And Easy Access Office
On the first floor with free parking, our office is easy to find and access. Upon your arrival, you'll be welcomed into a modern and stylish office.
You aren't expected to sit in a busy ENT waiting room or tackle a flight of stairs for your appointment – your convenience is very important.
#7 – Trusted By Local Physicians
As a local doctor of audiology in Lawrenceburg, Dr. Erica Person and Flex Audiology are the hearing care experts that many local physicians turn to when they need help, advice, or support.
It remains a pleasure to support them to maximize the hearing health of local people!
Extremely professional and very thorough.
"Dr. Person took the needed time to explain all of the exam, options, costs, next steps, etc. Accessible and willing to work with me. Would highly recommend!
I was eager to learn everything about my new role and any potential areas for advancement. Within four years, I've gained a wealth of knowledge, progressing in several roles as I strive to reach my fullest potential.
I love helping our patients and my relationships with them. My job and colleagues make each workday pleasant.
Applying at Flex Audiology is an excellent choice. Everyone is family friendly, caring, hardworking, and supportive.
Meet Your Flex Audiology Hearing Professional
Dr. Erica Person, Au.D, CCC-A
Dr. Person has been a private practice owner since 2005. She currently specializes in hearing aids, tinnitus management and vestibular diagnostics, while operating in an unbundled service delivery model.
Dr. Person is the host of The Unbundled Audiologist podcast. She serves as the incoming VP of Audiology for ISHA for a three year term.
Her greatest accomplishment is creating a life where she can serve others while still spending quality time with her husband and two small children.
Dr. Person was very knowledgeable and she was not interested in selling us the top of the line, she just wanted us to have the right aid at the right price. I have had a follow up and adjsutments went very well. he encouraged me to come with any and all complaints. There were none. We are blessed with adding these to our health needs.
With so many myths and misconceptions around treatment of hearing
loss, it can be very confusing to make the right decision.
That's why Dr. Person is available to help.
Simply complete this form and you will receive a callback between her
appointments for a friendly and no-obligation conversation to answer any
questions that you may have and she will offer her advice.
Remember, there's no such thing as a silly question when it comes to your
healthcare!Don't want to wait? Call us at: (812) 532-3011
"*" indicates required fields
They are very helpful.
I became aware of my hearing loss when I was a small child and wasn't sure what was going on. Everyone at Flex Audiology was very concerned and helpful with my hearing loss.
– Marshane Greathouse
I can hear a lot better.
Between music and machinery, I have also had trouble [hearing]. My biggest concern prior to my appointment at Flex Audiology was cost and service. Flex has the best of each – cost and service.
– Jim Stohr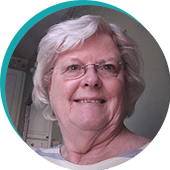 I was so amazed and my husband...
I first realized I had a hearing loss when my husband complained about the TV being too loud or having my friends repeating what they had said.
– Vicki Shroyer
Hearing aids are a valuable tool for individuals with a hearing loss, helping to restore their ability to communicate and navigate their surroundings. However, due to the advanced technology incorporated into hearing aids, they can come at a high cost. When...